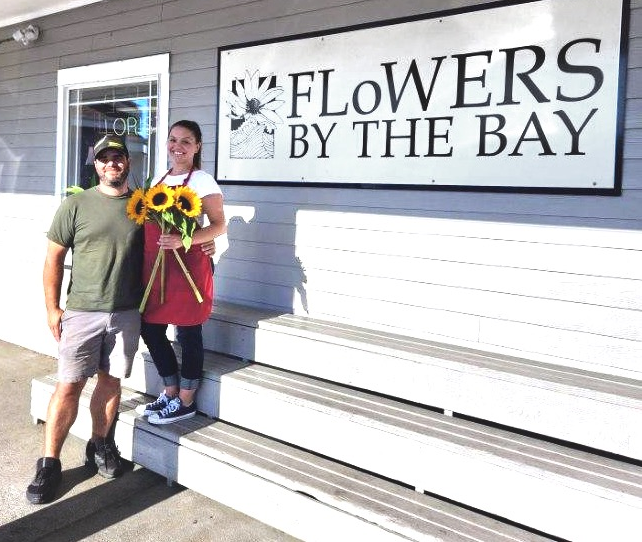 On August 1st, Danielle Dontcho and Eli Imbery became the owners of Flowers by the Bay, next to the Payless store in Freeland. The previous owner, Tracy Schultz, had owned this flower shop for 25 years and was extremely pleased to find someone willing to keep the store open.
What is especially noticeable about the new owners is they are young and have a commitment to support the community on South Whidbey. Eli was raised on Whidbey. Danielle grew up in Southern California. She worked in hospitality in Boston, before becoming a flight attendant. Danielle notes, "My first job in high school was in a flower shop."
Eli owns and operates Greenbank Construction LLC and also owns I C Teriyaki with Carol Coble in Freeland.
So, what led to them being owners of a florist shop??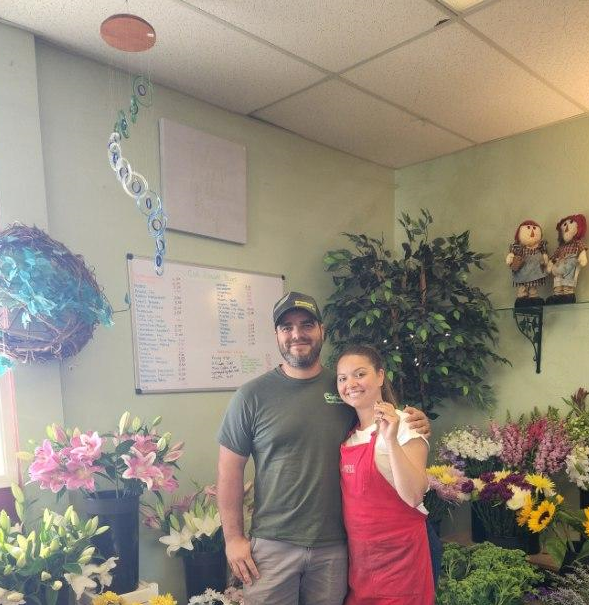 Danielle was commuting to SeaTac beginning in November of last year. One day, she had a particularly rough day with her commute. Eli greeted her with a bouquet of flowers from Flowers by the Bay. She was very touched with this sweet gesture.
A short time later, they noticed the for sale sign at the flower shop, and they talked about whether this might be an appropriate opportunity for them. They also asked, if they didn't follow up on this, "What would we regret?" They agreed they would regret not making an offer for this business.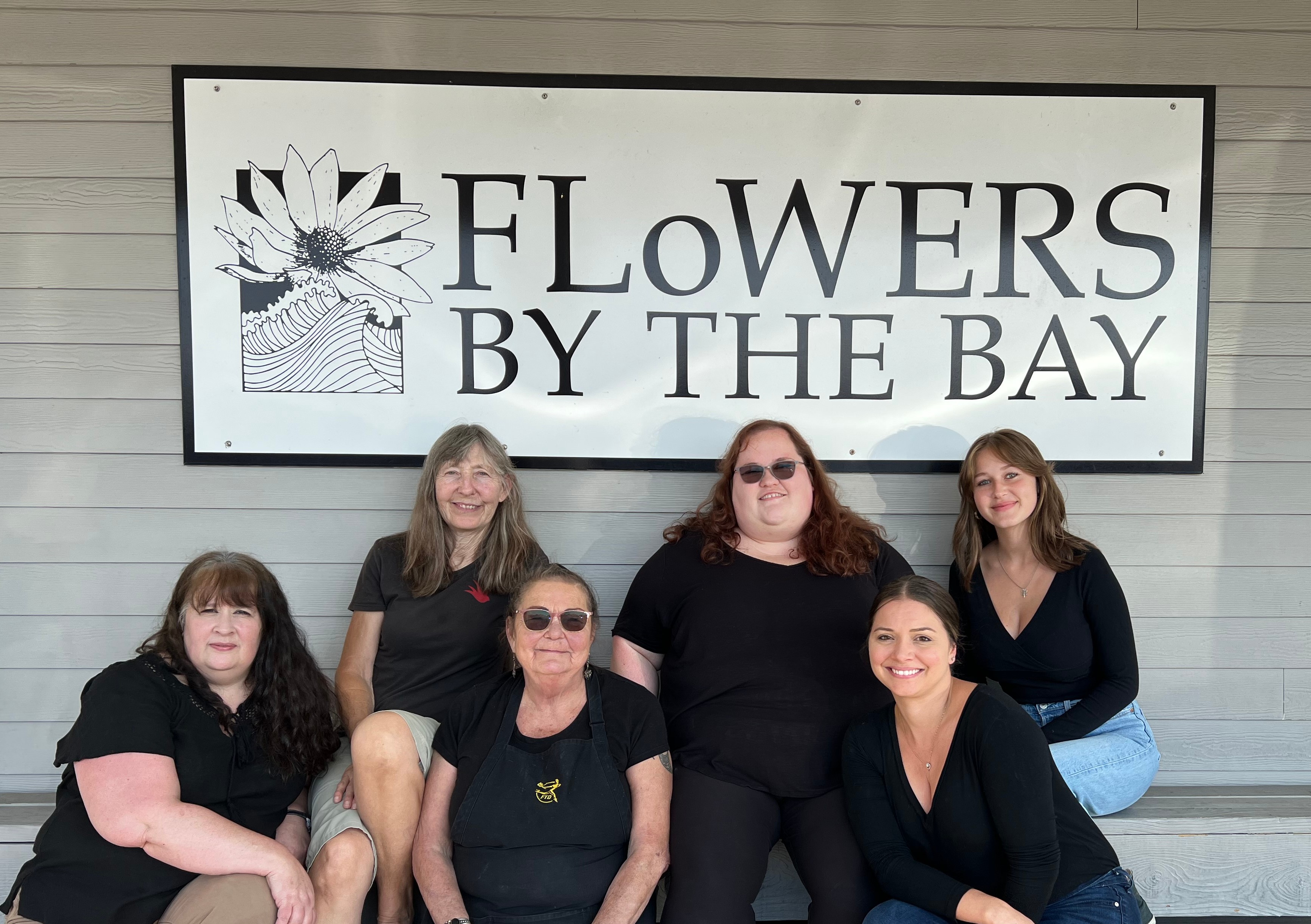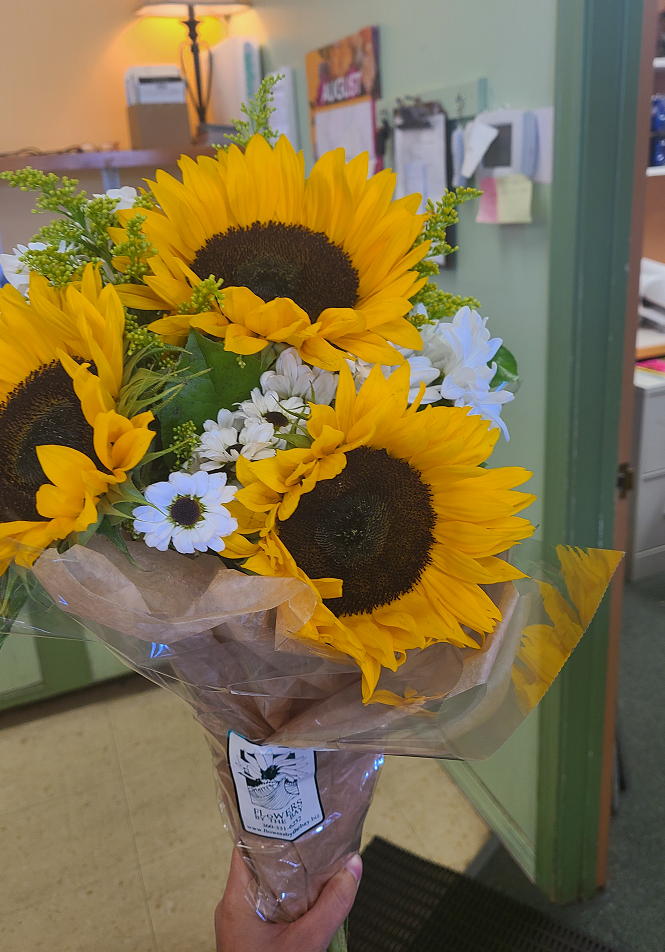 Tracy was instrumental in the transition of handing over the business. The entire staff has also agreed to stay on board with the new owners.
The two have many plans for the florist shop as the new owners. Danielle says, "We want to have a more island feeling here; we are planning to showcase local artists with some of the merchandise we will offer, and we want to focus on products that represent the identity of Whidbey." They are open to meeting with local artists who have some items that will be appropriate for the store.
They currently have five employees who share their enthusiasm. As part of the future plans, Danielle will offer flower arrangement classes. They are also looking forward to becoming contributing members to the Whidbey community. Danielle says "We are excited that so many people have already stopped by simply to say 'Hi' to us."
Flowers by the Bay, at 1609 Main Street in the Freeland Plaza Shopping Center, is open 9:00 a.m. – 5:00 p.m., Monday through Saturday. They have a contract with Teleflora so people can order on their website. They have two drivers who deliver flowers from the shop daily.
The website for Flowers by the Bay is: www.flowersbythebay.biz/. You can call the store for more information: 360-331-6252.